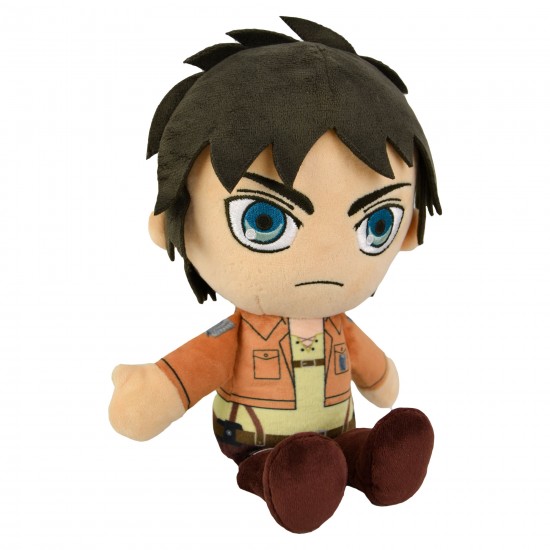 Coming soon...
Attack on Titan: Eren Jaeger CuteForme plush
CuteForme plushes have just got even better. They are now made more sustainably.

This plush is made from recycled plastics.
Size approx: full body 29cm, sitting 24cm.

Weight approx: 130g
Made in China
CE MARK & UKCA.
Eren Jaeger is the main protagonist of the hit anime series Attack on Titan. He is a complex and fascinating character, known for his determination, bravery, and willingness to fight for what he believes in.
One of Eren's defining traits is his intense desire for revenge against the Titans, the monstrous creatures that have decimated humanity and forced the remaining humans to live behind walls for safety. Eren's desire for vengeance stems from a traumatic event in his childhood, where he witnessed his mother being eaten alive by a Titan.
Despite his deep hatred for the Titans, Eren also has a strong sense of compassion and a desire to protect his loved ones. He forms close bonds with his fellow soldiers and is willing to risk his life to save them, even if it means facing impossible odds.
Throughout the series, Eren also undergoes significant character development, as he struggles with his own identity and the truth behind the Titans. He begins to question his own motivations and the actions of those around him, leading him to make difficult choices and face harsh realities.
For fans of Attack on Titan, an Eren plush is a must-have addition to any collection. Not only is Eren a beloved and iconic character, but his complex personality and emotional journey make him a compelling and relatable figure. A plush of Eren allows fans to bring this beloved character home and keep him close at all times.
Stock:

Coming soon...

Model:

PBPC11

EAN:

6430063310992

Popbuddies
Discover a world of Attack on Titan fandom at our online store! Dive into the gripping universe of Titans and Survey Corps with our extensive range of Attack on Titan merchandise. From adorable plushes and cozy pillows to stunning wall scrolls and high-quality fabric posters, we've got it all. Explore our collection to find the perfect addition to your anime shrine. With our wide selection of Attack on Titan goodies, you'll be able to proudly display your love for this epic series in style. Shop now and elevate your Attack on Titan experience!